When Do You Need to Hire a Professional Interior Painter?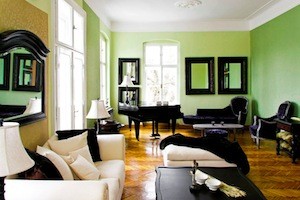 Interior painting is one of the popular DIY projects there is, and it's easy to understand why: for a low price and with a little hard work, you can make some great improvements on your Boynton Beach home. Interior painting doesn't necessarily require too much skill, it's relatively cheap, and it can immediately make any room feel recharged. However, before you decide to tackle this job on your own, you should consider exactly what it's going to entail.
Often, hiring a professional for interior painting is necessary, and even more frequently, it's the best option that you have as a homeowner. Consider how safe the project is, the stress that it may cause you, and the equipment and skills you'll need to get the job done adequately. Also remember that if you're looking for professional quality results, you'll need to hire a professional.
Here are a few of the things that the Boynton Beach painters at All Brite Painting Contractors recommend you consider before you decide whether or not you should hire a professional to handle this job:
Specific Features of Your Home
Before you go out to buy a bucket of paint, some brushes, and rollers, you should stop to consider exactly what this job will demand of you. Of course, depending on how you'd like the job to turn out, there are some homes in the Boynton Beach area that could be painted without the help of a professional, and the job may not turn out too badly. But before you decide to tackle this project on your own, think about the specific features of your home and how they'll effect the job.
The first and most important factor to take into consideration is the height of your walls. The higher your ceilings are, the more difficult it will be to paint your walls. A ladder can help, but ladders are also tedious, frustrating, and they can be unsafe.
Safe Removal of Lead-Based Paints
Speaking of safety, you should also know whether or not the pain that's currently on your walls is lead-based. If your home was built more than forty or fifty years ago, there's a good chance that there's some lead-based paint on the walls. If you do not choose to hire a professional, you'll need to find a safe way to handle and remove any lead-based paints before you begin the job.
Your Experience and Skills
To get professional results, you need to hire a professional—but you might also be an experienced and skilled painter. Before you decide whether or not you can take care of this job on your own, make an honest assessment of your skill set and decide on how good of a job you'd like to have done on your Boynton Beach home's interior. If you're not going to be able to do the job with high quality results, you may want to hand the work over to someone you trust.
Also consider the time and energy that this job will require. If it'll just be an extra source of stress and frustration for a few weeks, the professionals at All Brite Painting Contractors can take the job off your hands.
If you're looking for interior painting services in Boynton Beach, call All Brite Painting Contractors at 561-464-3999 or complete our online request form.