Pressure Cleaning & Softwashing in Boynton Beach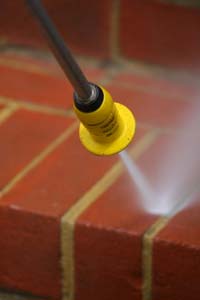 When it comes to your exterior; you can always get the family outside, give them a bucket of soap & water with the garden hose and begin scrubbing. Realistically this is not the best approach when it comes to getting the grime off of the home. Call All Brite Painting Contractors for a Boynton Beach pressure cleaning and softwashing and see how we can make your exterior look better. Your home is an investment that should retain or be worth more over the course of time. Don't let it become degraded into nothing.
Pressure Cleaning
Power washing a home keeps it clean while erasing all the dirt and grime buildup. Over the years your home endures buildup from weather and age. Power washing has enough power to make the siding, wood or brick look new once again.
Softwashing
Boynton Beach softwashing is a term that describes a cleaning method that is different from pressure washing. It is used only on certain objects that should not be penetrated by a high pressure jetting of water.
Benefit of Exterior Cleaning
There are plenty of benefits of exterior cleaning. When you cannot get the dirt buildup off the home; it's best to call in our team of Boynton Beach painting contractors for help because we know how to take the right approach. You'll notice the following effects of exterior cleaning power and soft:
Increased value of home
Enhanced appeal
Clean and healthy atmosphere
Preventative Maintenance
Pressure and soft washing is preventative maintenance that keeps you from costly repairs or replacements. It's a perfect way to save money and time. Keeping the exterior of the home clean will also improve your mood and attitude.
Safe, Yet Very Effective
We use a special solution for our pressure cleaning in Boynton Beach that is strong enough to destroy those hard to remove stains. Stains such as on your roof, driveway, fence and home can easily be removed using a safe and gentle solution.
Solution That Works
Solutions that are effective takes the efforts of trained individuals who have experience. Your home doesn't have to look like it is in bad shape. You can turn it around and make it be the focal point of the block as our solutions are safe and will not harm your home or family members.
Professional Equipment
One of the ways in which we keep your home safe is by using good quality equipment. We don't want to have to come back to clean your home so we will do it right the fist time around. We have the right equipment and the expertise to run it.
With our Boynton Beach pressure cleaning & softwashing services; you will be able to bring curb appeal to your home. If that's what its been lacking , then take the time and call All Brite Painting Contractors and we'll take the time to clean your exterior professionally.
If you are looking for a pressure cleaning & softwashing professional then please call 561-464-3999 or complete our online request form.