Top 3 Reasons to Pressure Wash Your Home Before Painting It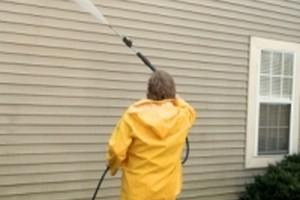 One of the best ways to make your home more attractive and increase its resale value is to paint its exterior. However, it's very important to make sure that you know you're getting a high quality paint job. If the paint job is sub-par, its appearance will quickly deteriorate, and you'll need to have your home repainted much sooner than you should.
At All Brite Painting Contractors, our Boynton Beach painters can always provide you with high quality painting materials and excellent workmanship to help guarantee that your exterior paint job is as high quality as possible. Another important service that we offer is pressure washing, and our professionals recommend that you have your home's exterior pressure washed before painting it in order to guarantee the best job possible.
Here are the top three reasons you should pressure wash your home before having it painted:
1. Make Sure Your Paint Job Is Long Lasting
Over time, your home accumulates a lot of dirt, grime, and other substances on its exterior, and even if you can't see these things, they're likely all over your home's exterior walls. Most of the time, when a home is painted without being washed first, the paint goes over these build-ups and not onto the walls. Whether it's dirt, grime, or mold or mildew growths, this can be a serious problem for your Boynton Beach home.
If you paint over these build-ups, the paint will not be able to properly adhere to your home's walls. In a short period of time, the paint will begin to crack and peel since it's only adhered to an outer layer of grime. Pressure washing will ensure the proper adhesion of paint and guarantee a long-lasting paint job.
2. Your Garden Hose Won't Do the Job
Unfortunately, there's really no DIY version of the pressure washing job a professional can offer your Boynton Beach home. Using an ordinary hose for the job won't give you the intended effect, as you'll never be able to achieve the high amounts of pressure you need to remove much of the grime, even if you're able to notice a significant visible difference. And what you can't see is what will end up causing you the most problems down the line.
The mold and mildew that we mentioned earlier in the article is a lot tougher to remove than you may think. Power washing is the only way you'll be able to remove enough build-up to have a significant effect on the quality of your paint job.
3. Professionals Know What To Do—And What Not To Do
When you rely on our professionals for pressure washing and painting services, we'll be able to ensure that your home is totally cleaned and properly prepared for painting so that we can provide you with the highest quality services possible. We'll also be able to guarantee that no part of your property is damaged during this process.
If you're looking for pressure washing services in Boynton Beach, call All Brite Painting Contractors at 561-464-3999 or complete our online request form.