Luxury Specialty Coatings & Finishes For Homes & Businesses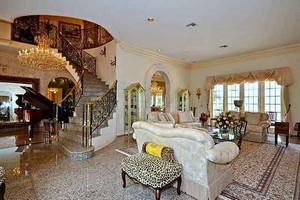 If you have a home or business in Boynton Beach and are looking for economical ways to improve it, there are specialty coatings available that will completely transform the look of metal, wood, fiberglass, floors, ceilings, and other surfaces. Specialty coatings are a much more affordable way to redesign than changing out the materials.
At All Brite Painting Contractors, we use high-quality specialty coatings for commercial and residential applications in Boynton Beach, so we've seen a lot of amazing transformations with these products. The following is some information about the different specialty coatings we use, where they can be applied, and what type of finish they provide.
Changing A Surface To Granite, Marble, Or Other Fine Stone
One of our favorite specialty coatings is Zolatone because it completely changes to look and texture of a surface. There are a variety of colors that range from subtle tones to vibrant multi-colors. There are also metallic finishes with pearl tones, granite, or marble. This specialty finish can be applied to all kinds of surfaces including walls, fiberglass, ceilings, columns, wood, and so on. One great advantage to Zolatone is how well it hides surface imperfections.
The new surface will be remarkably durable and easy to clean. And Zolatone makes options in low VOC and LEED compliant formulas.
Scuffmaster, The Tough Specialty Coating You Want
Any area of your home or business that gets a lot of abuse will need to be durable in order to last. Scuffmaster is a leading specialty coating that is an interior paint finish for a number of different surfaces. It comes in a huge range of colors, literally thousands so it's perfect for an interior paint job.
The surface is scuff, stain, and mark resistant and easy to keep clean. The formula of all their coatings is earth friendly.
Multispec Specialty Coatings
Multispec coatings are much more desirable than ordinary paint. The multiple colors within the finish give the walls, ceilings, and other surfaces dimensional design. The surface is durable, stain, and mar-resistant and is easy to clean.
With the Multispec coatings, you will have options in custom multicolors, stone accents, and watercolors. Apply this product to trim, backsplashes, concrete foundations, ceilings, and walls.
All of these specialty coatings need to be applied correctly with the right equipment. If you are interested in something affordable and beautiful for your home or business in Boynton Beach, call All Brite Painting Contractors for professional application. We can tell you all about the different designs that can be created with the right product.
To learn more about Specialty Coatings in Boynton Beach, FL, please call 561-464-3999 or online request form.