4 Steps To Waterproofing Your Home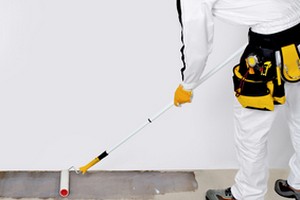 Most homeowners often associated water damage with flooding. But there are numerous ways that water can invade your home. Whether it's a leaky roof or damaged plumbing, sometimes water damaged can attack your home one drip at a time. You can take preventative measures in order to secure your home from water, moisture, and humidity using a few simple steps. Waterproofing your home's exterior and interior can save you thousands of dollars in potential destruction over time. When you contact an All Brite Painting Contractors professional, they can go over the key areas that you need to look for.
Drywall Sealing & Repairs
Over time, the drywall on your ceiling and walls can become worn or damaged leaving open areas that make your interior vulnerable to the outside. Your home's drywall is the final barrier from rain, heat and cold, and drafts. Even the smallest cracks and holes in your wall can allow air to enter or escape. This causes your heating & cooling system to operate less efficiently which, in turn, will run up your energy bill. A professional can easily seal up all the blemishes in your drywall. This includes filling up holes and cracks and making sure that the corners are sealed up.
Caulking
One of the key areas in your home where drafts can enter or warm air can escape is around the windows. Once your windows get old they will lose the seal both in the windows itself and around the frame. If you can't purchase new windows, it's a good idea to re-caulk around the frame. Quality caulk with professional installation generally 5-7 years, so make sure you don't use cheap products. Other areas where caulking is used is around the bathroom. Check around the sink, particularly underneath the counter, and around the tub, shower, and toilet. Wherever there are fixtures in your home, there is generally caulk used to seal them.
Exterior Paint
When painting the outside of your home, keep in mind that there are two main purposes for exterior paint. The first is obvious, and that is in order to make your home aesthetically pleasing and give it curb appeal. While this is extremely important, there is another use for exterior paint, and that is to provide an outer barrier for your home. Whether you're painting on wood, vinyl, metal, or stone, the right paint offer the first line of defense from the outside elements. Consult with a painting professional to find out which paint is best for your home exterior.
Paver Sealant
Watersealing your home in Boynton Beach requires more than just taking care of your interior. The area around the outside of your home come's into direct contact with extreme temperatures, humidity, sunlight, and, of course, rain. Stone also absorbs stains, oil, and grease which causes the material to deteriorate. Although paver stones are durable, they're just like any other material and will eventually break down. You can add life to your paver patio or walkway, however, by simply adding a coat of sealant on a routine basis.
If you are looking for a Boynton Beach painting contractor, then please call 561-464-3999 or complete our online request form.