Wallpaper Removal in Deerfield Beach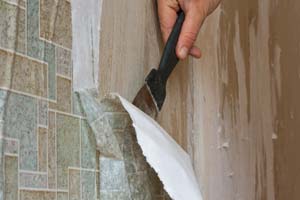 Do your walls still have wallpaper on them? Do you want it removed but just do not have the time nor patience to do so? Well today could be your lucky day as All Brite Painting Contractors can rescue you from the past. We offer Deerfield Beach wallpaper removal. This is a service that can put your home back on the map. So call today and bring your home into the 21st Century. You'll appreciate the amount of time that we spend on your walls.
Saving Time and Money
Removing wallpaper is a task that is best left to professionals due to the complexity of it. Wallpaper requires an adhesive to make it stick. The longer that it has been on the walls the harder it will be to take off. A professional service like ours will save you time and money.
Adhesives
Not all wallpaper was hung the same way in many Deerfield Beach homes back in the day. Some have been hung with a specialized glue where as some have been hung with a water based solution. Which solution was used on yours? That is a secret that only professionals can tell. It can be a lot easier to take off too.
Reasons to Have Wallpaper Removed
Modernize
Resell home
Broader appeal
Fresh New Changes
At All Brite Painting Contractors, we understand how just a few changes in your home can bring about a fresh new look to your appearance. That's why we offer innovative and all-encompassing solutions for your commercial and residential wallpaper. Because when it comes to Deerfield Beach wallpaper removal; there is only one company that can deliver.
Quality Removal Products and Solution
Regardless of what type of wallpaper you need to have removed, All Brite Painting Contractors uses only the best products and solution to complete your wallpaper separation project. Call and find out more about having yours removed safely and accurately.
Wallpaper or Paint
If you have ever been faced with the decision of having wallpaper or paint; you are not the only one. There are pros to having each but nothing beats a good interior paint as it can protect your walls for years and years. Paint is also good for covering and hiding blemishes as well as adding color to your room(s).
Safe Removal Process
Contact All Brite Painting Contractors as our removal experts can come out and safely remove your wallpaper. You'll find our Deerfield Beach painting contractors to be very professional and prompt. We have the expertise that it takes to make your wallpaper go away.
Whenever you need wallpaper removal done to your walls, then give us a call. We want to make you love your home again. Let our guys take care of your wallpaper and see what's behind it.
If you are looking for a wallpaper removal professional then please call 954-707-6348 or complete our online request form.